The Scripts module empowers you to seamlessly integrate various scripts and styles into your website using the CMS. For example, you can use the module to add scripts such as Google Tag Manager,  Facebook pixel, cookie consent tools, and more.
Creating a Tag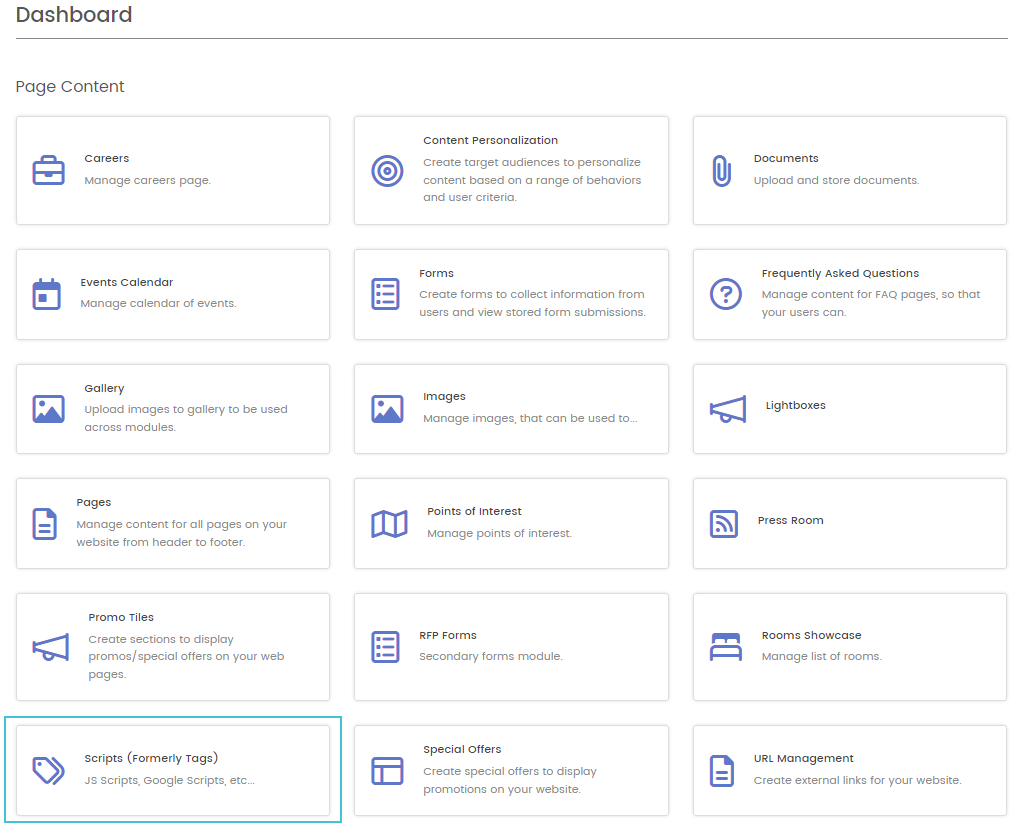 In the CMS Dashboard, navigate to the Scripts module.
Select New Script link or the Create Script button.
A popup with script options displays.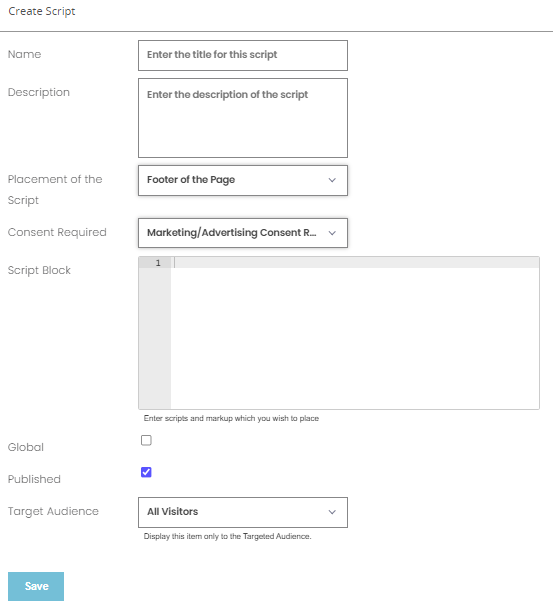 Fill in all applicable fields.

Name: Choose a descriptive name that will easily identify the tag when browsing the list.
Description: Provide a clear and concise description for the tag. A well-written description helps others understand the purpose of the tag. Therefore, adding a description is always recommended.
Placement of the Tag: Determine whether the tag should load at the beginning or the end of the page. For instance, if your tag's script relies on the main scripts that load at the end of the page, select the "Footer of the page" option.
Consent Required. Select the appropriate option from the drop-down menu indicating the consent level required for the tag.

No Consent Required 
Minimal Consent Required: The cookies are required to enable core site functionality.
Functional Consent Required: The cookies allow us to analyze site usage so we can measure and improve performance.
Marketing/Advertising Consent Required: The cookies are used by advertising companies to serve ads that are relevant to your interests.

Global: Indicate whether the tag should be applied globally across the entire site or restricted to specific pages.

Global: Select this checkbox if the tag should be applied to all pages on the site.
Page-specific: Clear this checkbox and configure the tag's page-specific application in the Page Manager. See below for instructions on adding scripts to individual pages.

Published: Select the checkbox to activate the tag and make it visible on the frontend. Clear the checkbox to keep it unpublished or to unpublish it. Unpublished tags remain in the system for editing but are not displayed on the frontend.
Target Audience: If the Content Personalization Engine is enabled, you can specify the target audience for the tag. The default option is All Visitors.

When you have completed the applicable fields, select Save.
Adding Scripts to Individual Pages
Navigate to the Pages module, and select the page to apply the script to.
Select the SEO/Meta tab. Scroll down to the Scripts section located at the bottom of the page.
Select this field and the list of tags appears. Choose from the available scripts in the list or create a new one by clicking the Create New Script option.
You can add multiple scripts to a single page according to your requirements.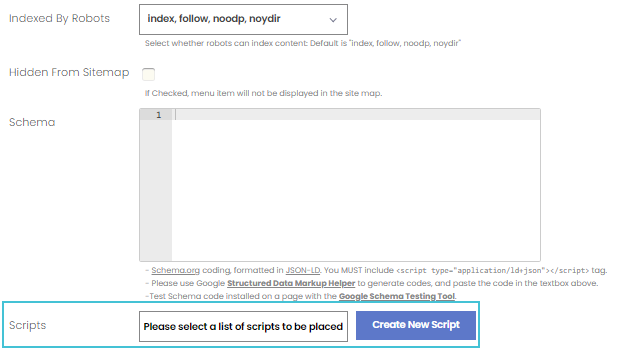 Tips
To review the usage of existing tags, simply select the Usage button within the Scripts module. The Usage popup will display all instances where the selected tag has been added. You can also directly remove the tag from this popup, eliminating the need to navigate to the individual page.