Using the Tags module, you can add any script or styles to the website. For example, you can add Google
analytics or Facebook pixel tools.
Creating your tag:
Select the Create Tag button.
A popup with the options displays.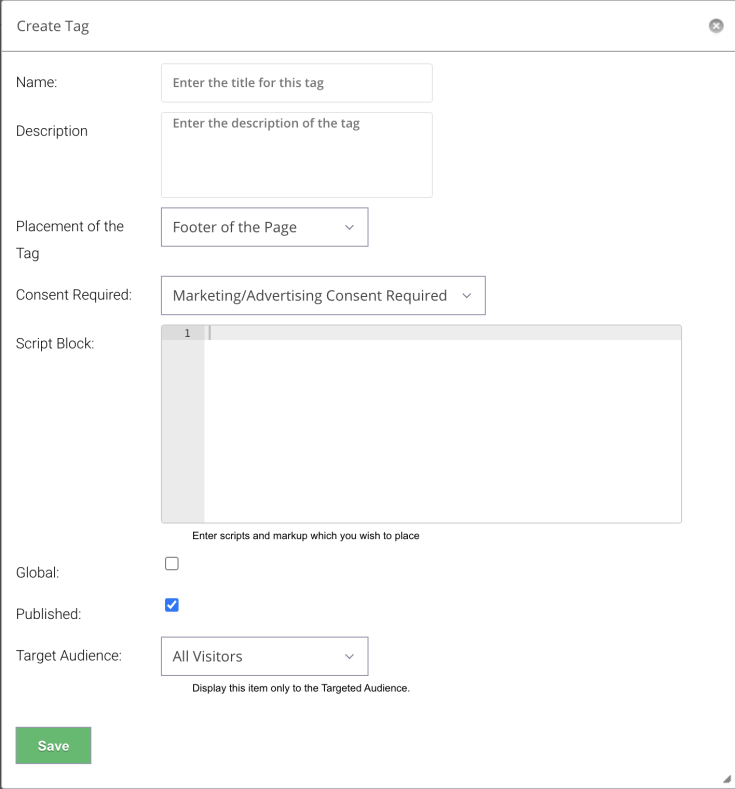 Fill in all required fields. For a description, see below.
Select Save, when you have completed the information required for the tag.
Name: Use an intuitive name so you can find it later in the list of tags.
Description: Add a description for the tag.
A good description helps other people determine what your tag is supposed to do. Therefore, please always add a description.
Placement of the Tag: Will your tag load at the beginning of the page or at the very end. For example, our scripts are loaded at the end of the page load. So, if your script relates to the code that loads in the main scripts, your tag with a code should run at the end of the page load. In that case, select the footer of the page option.
Consent Required. Select the required option from the drop-down. Options are:
Required: The cookies are required to enable
core site functionality.
Functional: The cookies allow us to analyze
site usage so we can measure and improve
performance
Advertising: The cookies are used by
advertising companies to serve ads that are
relevant to your interests.
Checkbox Global: Select this checkbox if the tag will be used globally on the site. Clear the checkbox if you want to use the tag on specific pages only. This is specified in the page in page manager.
Tip: Hit Save and go to a page in page manager where you want to add this tag. Open the page and click the SEO/META tab. In the end of the options list, you will find the Tags option. Click inside this field and the list of tags appears. Choose any tag from the list or create a new one by selecting Create New Tag. You can add several tags per page.
Checkbox Published: Select the checkbox to publish the tag, i.e. activate it for the front end. Clear the checkbox to leave it unpublished or to unpublish it. Unpublished tags do not appear on the front end, but they can be edited and stay in the system that way without having to be removed.
Target Audience: Select the Target Audience for the tag. The default is All Visitors.

In the List of available Tags, you can always check the usage of existing tags by selecting the Usage button. Usage shows you where your tags are used. If you want to remove it, you can do this right here. No need to go to the page.