Release Notes - June 02, 2021
We've shaken up how you create and manage templates in eInsight CRM and can't wait for you to give it a whirl. Similar in look and feel to the campaign management redesign we recently released, the all-new, reimagined template management provides an intuitive and flexible user experience we know you'll appreciate.
Here are just a few highlights:
Create one master template that can be used for some or all your properties.
Two new user-friendly views: The Card View offers built-in, mini previews and helpful stats such as how many campaigns are using the template, and the date the template was last updated. The List View also includes those stats, along with advanced filters to quickly find what you need.
Declutter your views by deactivating your unused templates with the new Status feature.
Default sort to view the most recently updated template(s) first.
These enhancements will be deployed on June 08, 2021, beginning at 8:00 PM ET. Read on to learn more.
Robust Manage Templates Page
Some of the actions you can take on the new Manage Templates page include:
​Toggle between a Card View and a List View.
In the List View, click any column header, or multiple headers, to create custom filters you can enter yourself.
Click a template to open its details page.
Jump to the Template tab where you can edit your template.
Open a full size preview.
Clone or delete a template.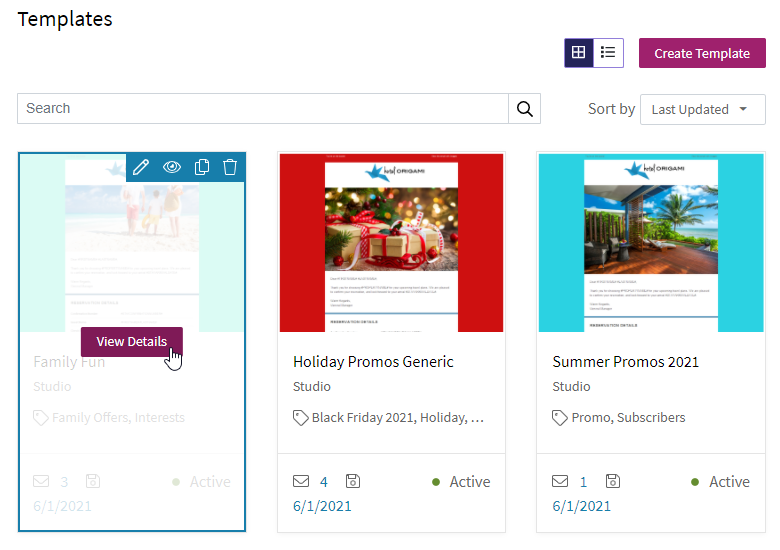 Template Details at Your Fingertips
The new Template Details area comprises an at-a-glance summary of the template; a full-size preview; basic testing data; a list of all campaigns using the template; and a full change history.
In the General card of the Summary tab, you can update the status of a template from Active to Inactive, and back again, as needed.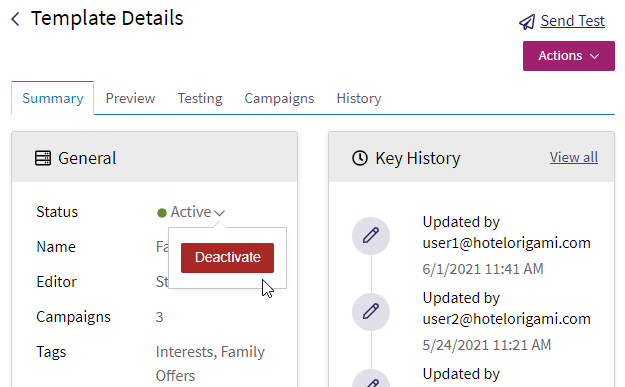 You can easily send a test email from any tab within Template Details. (Note: tags will not be replaced with data in template test emails.)
By clicking Actions, you can edit, clone or delete the template.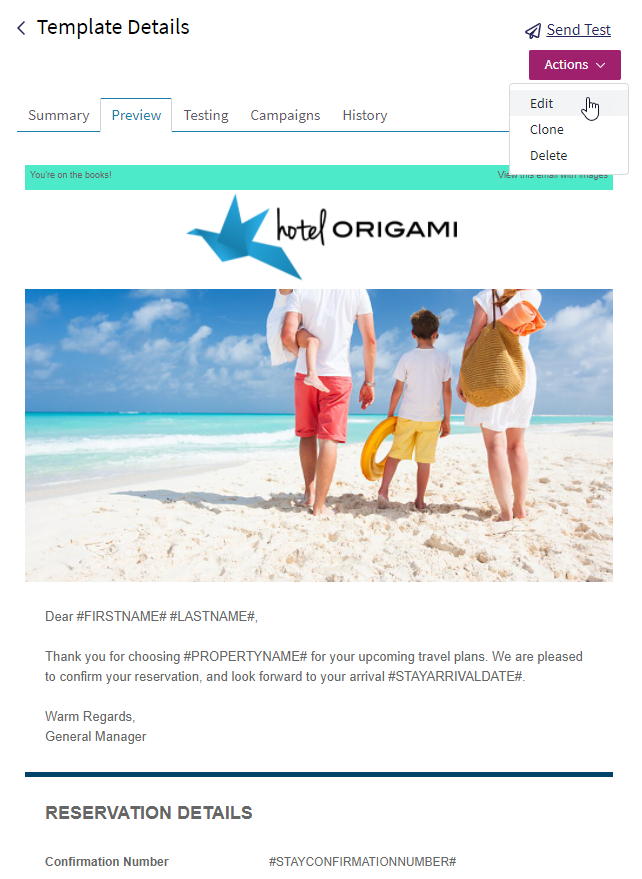 Learn more about creating and managing master email templates.