Release Notes - June 21, 2021
We're pleased to announce that you will soon be able to choose your preferred date format between MM/DD/YYYY and DD/MM/YYYY. The format you select will be applied to all reports, including headers and footers, dashboards, filter input fields and report scheduling. However, within report scheduling, you can change the date format for a particular report that you're scheduling without affecting your saved preference.
This enhancement will be deployed on June 28, 2021. Read on to learn more.
Choose your Preferred Date Format
Click on the User Icon containing your initials in the upper right corner and select User Preferences.

Choose either MM/DD/YYYY and DD/MM/YYYY from the Date Format drop-down list, then select Save.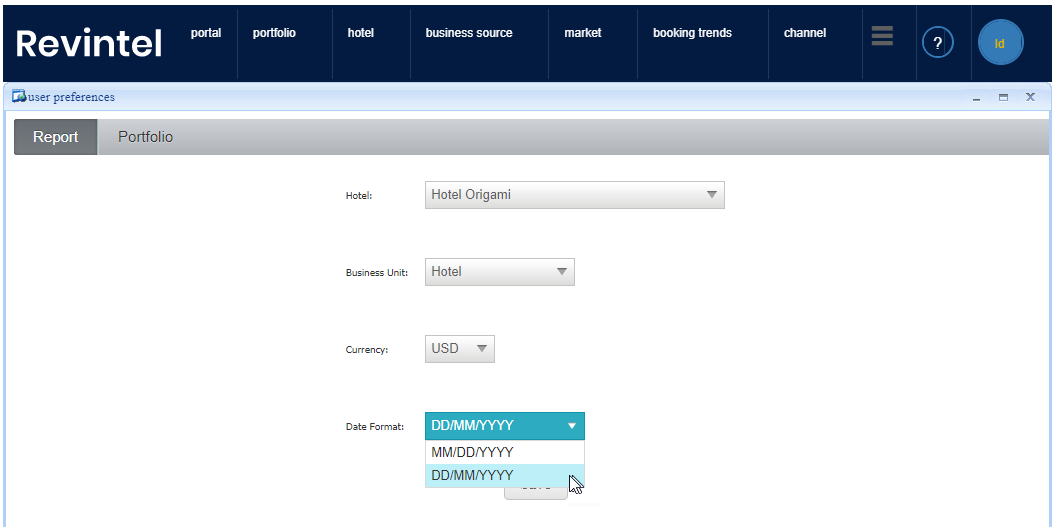 Note
After you save new date format preference, you must close and reopen any open reports for the new preferences to appear in them.
Change Date Format within the Report Scheduler
In the screenshot below, the Start and End Dates appear in the DD/MM/YYYY format as determined by the user preferences. However, you can choose the MM/DD/YYYY format for the generation of this specific report from the Date Format drop-down list.