Submitting a work order is quick and easy. You can submit a work order to request items such as:
A new automated email or updates to an existing one.
Mobile Concierge edits such as updating content or images. (Charges are incurred for changes and additional content if your account has exceeded 2 hrs. of changes per quarter.)
A new pre-arrival or post-stay survey or updates to an existing one.
More recipients be added to your newsletter volume or assistance from our team creating or editing a newsletter.
Customized changes or additions made to your PMS integration.
The Help widget
Click on the blue Help widget in the bottom right corner of your screen.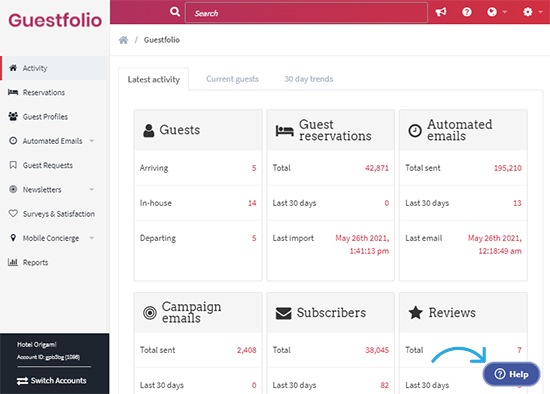 After opening the Help widget, click on Submit Work Order Here at the bottom of the Help window to open a new Guestfolio Work Order Request.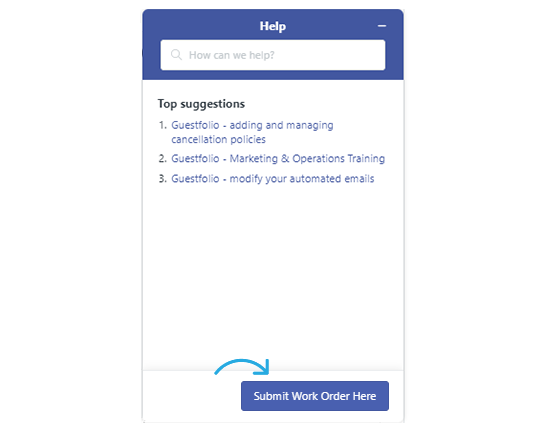 Enter your name, email, and a subject line for your request.
Select one option from one type of request. For example, to request that we build a new Modification email, first select the drop-down list in the Emails section, then choose "ADD - Modification email..." - as seen in the screenshots below.
Note
The fees associated with each option are listed under the option name.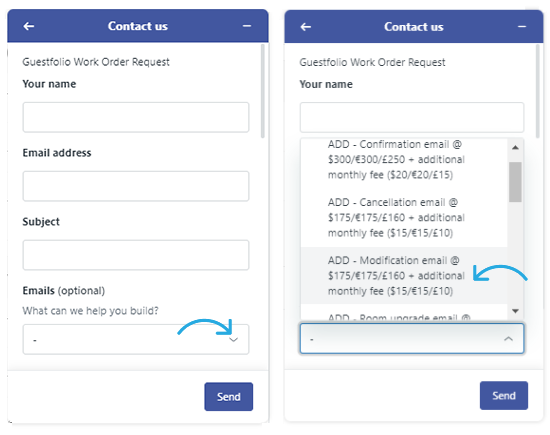 Enter as many details about your request as possible in the description box. Please be highly specific to avoid delays.
Check the Approval box to confirm you agree to the pricing specified in the option you selected above.
Optionally attach up to 5 files related to your request.
Select Send and we'll get to work.
If you have any questions, please contact your Cendyn Customer Success Team.