The WebAdmin is the administration module of the NextGuest CRM product suite. It is used for the setup, configuration, and maintenance of NextGuest CRM applications.
In this article:
Signing into WebAdmin
Note: Access to the WebAdmin is usually reserved to the administrator or a NextGuest CRM specialist.
You can sign into WebAdmin via the NextGuest CRM Portal by entering the web address directly or via the App Launcher icon in the top navigation bar available from any of the NextGuest CRM applications.
Sign into the NextGuest CRM portal.

Select WebAdmin.
The system displays the WebAdmin start page with the admin dashboard and the navigation on the left.

Checking the status of key metrics on the dashboard
Admin Dashboard: The Admin Dashboard allows you to monitor the status of key metrics, such as the number of hotels that are online, the totally available rooms, as well as mandatory and other mappings. You can see at one glance if anything requires immediate action.
Checkmark = green-light status; no action required.
Exclamation mark = red-light status. The integrity check has discovered an issue, such as a missing mapping or a hotel offline. Corrective action is required. Click into the tile for more information.
Hovering over a tile displays a description of the tile details. Click into a tile to flip the tile over and display more detailed information.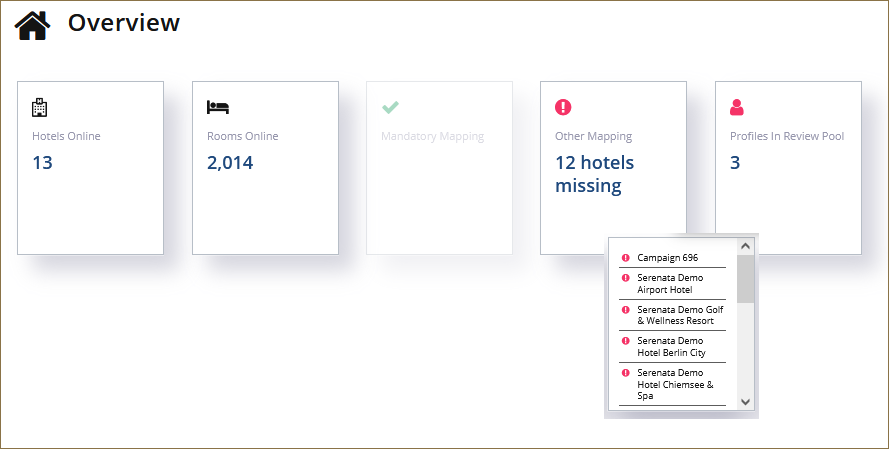 Navigating Web Admin
Use the navigation on the left to browse through the individual Web Admin menus and to locate the option you require.


Select the required option.
See the below table for a short description of the menus. Some menus are reserved to the NextGuest specialist, others are available to customers and NextGuest agents.
Caution: Changes made in WebAdmin can seriously impair the operation of NextGuest CRM. Access to WebAdmin should be reserved to specially authorized users. Please consider carefully any modifications that you are making to the master data of your system. Do NOT carry out changes in WebAdmin unless necessary. If in doubt, always consult your NextGuest specialist.
Web Admin table - description of main menu options
Menu
Description
Editable by
System
Displays basic settings and system information. Includes information on the version in use, the subscribed licenses, system parameters, etc.
NextGuest Agent

Hotels

Displays a list with the properties and outlets that form part of your centralized NextGuest CRM solution. Is used to view, add and edit the basic information of each hotel.

mainly NextGuest Agent

partial Customer

Mappings

Mandatory Mappings and All Mappings

Using mapping, centrally map hotel-specific codes, i.e. PMS codes – with undefined or missing assignments – to known headquarter codes, i.e. main codes. Discrepancies in your mapping will result in inaccurate revenue, production and reporting figures that will not add up. Mandatory mappings need regular care, otherwise figures may not be calculated correctly. See additional article: NextGuest CRM - mapping PMS data to CRM data - why is it important?

Customer
Main Data
Using the Main Data menu add and edit the standardized set of master data contained in the central NetHotel database. The master data, which are also called main codes, are used chain-wide by all properties. This includes card type, country codes, department codes, salutation codes, etc.
Customer
Users

Used for setting up users, user groups, rights, and employees (if B2B Sales is used).

Changing the password for a user.

Customer
Profile Management

The Profile Management menu provides some options required for setting up and viewing the checking and matching rules used for cleaning and matching PMS profiles to central profiles.

NextGuest Agent
Emails

The Emails menu provides options for setting up internal email addresses for e.g. resetting passwords and for determining when emails are considered hard or soft bounces and unopened. Additionally, the menu contains options with

The general email exclusion list
The email setup for newsletter registration
The emails used for the member portal

NextGuest Agent mainly

Customer in part


Analytics
The Analytics menu provides options for setting up Decision Maker, the RFM calculation, guest scoring, etc.
NextGuest Agent
Tools
The Tools menu provides several import and export options for data as well as access to the data dictionary and to scheduled jobs.
NextGuest Agent