With Compose, driven by PowerBI, users can tailor reports to their preferences and design personalized dashboards to gain even faster insights into their business and share their data stories. This interactive tool allows users to create stunning new reports with easy-to-use drag and drop functionality.
Getting Started
Select Compose from the top navigation bar. It will open in a new tab. If you have other reports open, you can toggle between them and the Compose reports.

Select the Toggle Full Screen icon to expand your view to Full Screen.

Select Escape on your keyboard to exit out of the Full Screen view. You can update your filters while in Full Screen or you can hide them by clicking the arrow at the top of the Filters pane.
Template Reports
Template Reports are preconfigured reports and visualizations designed for you to use out-of-the-box. Select one and your data will automatically populate.
User Reports
Reports that you have customized will appear under User Reports. To customize a report, select a Template Report. Select Copy Template.

Enter a new name for the report, then select Copy.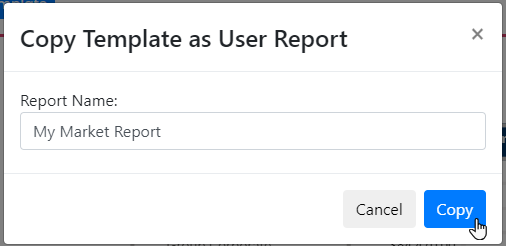 To delete a User Report, select the report, then select Delete.

Shared Reports
Reports that you have shared will appear under Shared Reports. When you copy a Template Report, by default, it is set to Private mode, which means only you can access it.

Select Shared to share a report with your team at your property. Please note that Shared Reports are also available to all properties under your umbrella.

Filters
You can apply filters to the report from the Filters pane on the right side of the screen. Click the down arrow to expand the filter's options.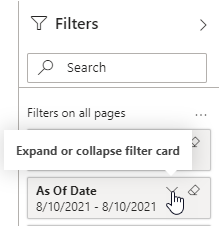 Update your selections for the filter, then click Apply Filter.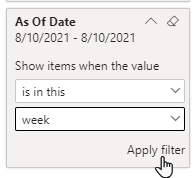 Clear the filter by selecting the Eraser icon.

Most of the filters found in Compose are similar to those available in other reports in Revintel. However, the reports in Compose are fully interactive. You can drill into the data by selecting a portion of one of the visualizations and the rest of the report will respond by focusing on the selected data. Select the visualization again to clear the filter.
Exporting Data
To export your report or dashboard, select the three dots within the visualization and/or table, then select Export Data. The data behind the visualization will be exported, but the visualization itself will not.

Alternatively, you can download the entire canvas by selecting the printer icon and either printing the page or saving it as a PDF.

Presenting Reports
To present your report, select the Toggle Full Screen icon in the top right corner and hide the editing features by selecting the arrows. Select Escape on your keyboard to return to the editing view.
Learn more about Compose