Release Notes - October 27, 2021
We're thrilled to announce that we've put the final polish on Compose, Revintel's new Business Intelligence (BI) tool, driven by Power BI. It will be released October 28, 2021. We appreciate your patience and celebrate your enthusiasm for this exciting new feature.
Compose will enable you to create unique and custom-view insights into your business and share your data stories faster with highly visual, interactive reports and dashboards. You can tailor reports to your preferences and design personalized dashboards with easy-to-use drag and drop functionality.
Compose includes Template Reports, which are preconfigured reports and visualizations designed for you to use out-of-the-box. By leveraging the countless available filters in Compose, you can customize these canned reports down to the finest data points, revealing the trends and patterns most important to you.
Read on to learn more.
Template Reports
Template Reports are incredibly powerful when used "as is" and are fully flexible and responsive to any of the dozens of filters you can apply to them. They are also perfect to use as a starting point if you want to customize your own reports and visualizations. Whether you want to change the metrics, the type of visualization or simply the color scheme and fonts, making reports and dashboards your own is easy. There are currently three Template Reports available: Day of Week Report, Market Report, and Room Type Report, with more in development.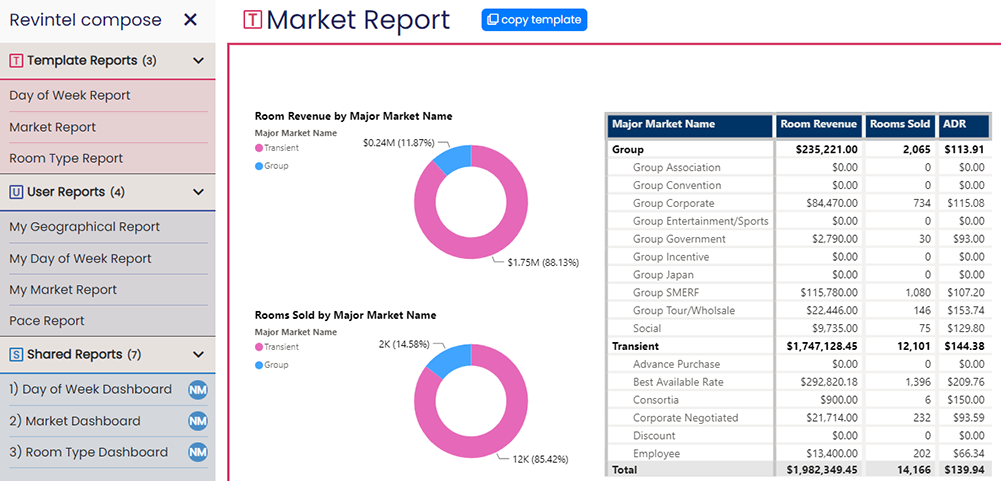 Learn more about getting started in Compose.
Filters
While the reports in Compose offer filters similar to those available in other reports in Revintel, Compose features amazing, fully interactive visualizations. You can drill into the data by selecting a portion of one of the visualizations and the rest of the report will respond by focusing on the selected data.
For example, the donut charts below show Room Revenue and Rooms Sold for both Transient and Group. When you click on the Group segment (in blue) in either chart ...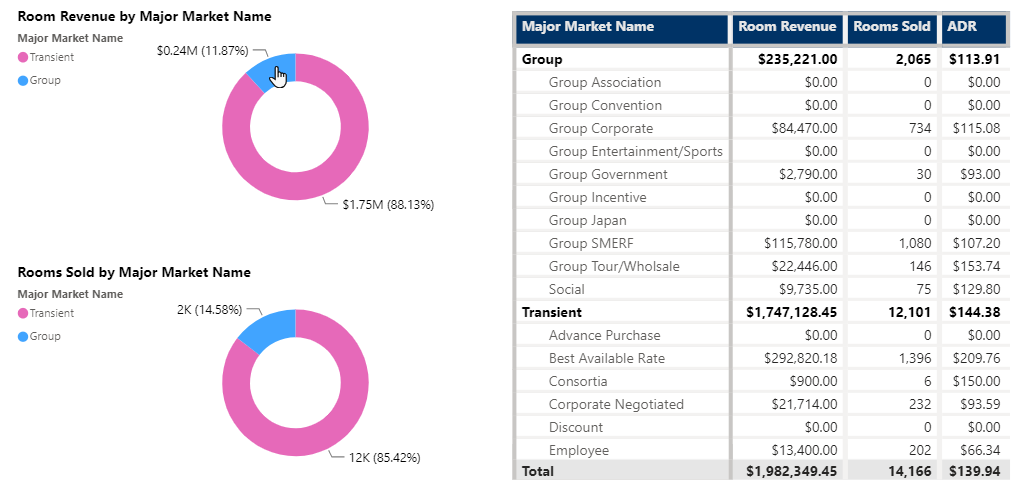 ... the data displayed in both charts and the matrix update to focus only on Room Revenue and Rooms Sold for Group, as seen here.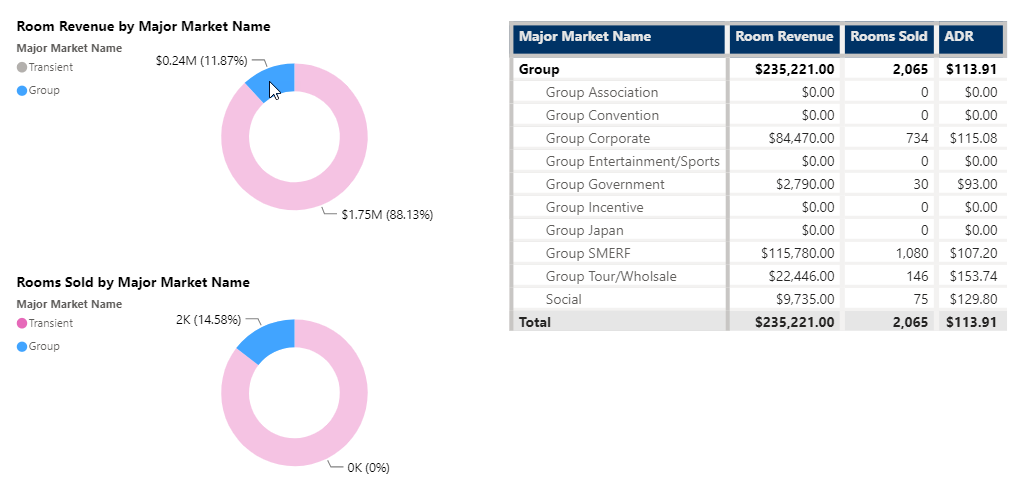 Custom Visualizations
Seamlessly create your own custom brand-matched interactive visualizations in a variety of formats, from standard bar, column, and pie charts to more complex designs. The icons below show the different types of visualizations you can create.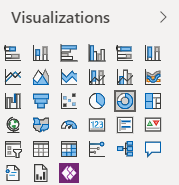 If you start building a visualization by selecting fields without selecting a visualization type first, Compose picks the visualization type for you. You can keep Compose's selection, or change the type by selecting a different icon.
Learn more about customizing reports and aligning reports with your branding.
Drag and Drop Functionality
The drag and drop functionality for reports makes it easy for anyone on your team to build and analyze custom dashboards and reports in just minutes – no complex spreadsheets or programming required. The Fields pane displays the tables, folders, and fields in your data that are available to create visualizations. You can drag these fields onto the canvas, the Filters pane, or the Visualizations pane to create or modify visualizations.