Revintel can be leveraged by various departments in the hotel. Sales leaders can analyze their hotel performance and identify successes and opportunities for their team members. A great way to capitalize on the power of Revintel is to propose a business question you want to solve.
To assist you with this exercise, we've compiled a list of top questions often asked by sales leaders along with suggested Revintel report(s) to help you answer these questions. Keep in mind that one question could possibly be addressed with a variety of reports, and reports not listed below might be used to answer the same question.
This article focuses on analyzing your budget/forecast and pace performance. Check out these articles that spotlight other areas worthy of your attention:
Q: How is the hotel performing against Budget, by month (OTB vs Actuals)?
Report: Portal > Monthly Pickup and Budget Variance
Recommended Filters
If a property has uploaded their Budget & Forecast into Revintel, the Portal (Monthly Pickup and Budget Variance Dashboard) allows the user to see OTB variance vs Budget & Forecast for Room Nights, ADR and Revenue.
TIP
This report allows a quick overview of gaps to Budget/Forecast. Utilize other Revintel reports to understand the segmentation performance vs Budget/Forecast.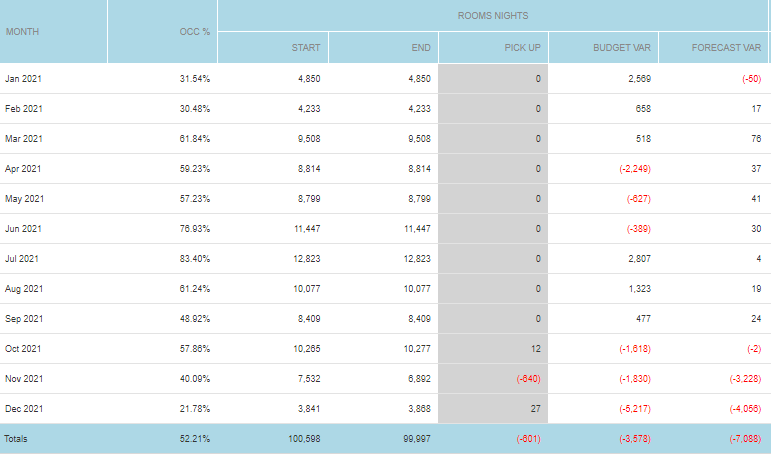 Q: How is the hotel performing against Budget, Forecast & Comparison Year by segment?
Recommended Filters
Fill in your Start Date and End Dates. It is recommended that you use this report for full month views. Select your As of Date and your Comparison Year date. This report is best used when Budget and Forecast are uploaded into Revintel. Remember that the STLY/Comparison Year is a date to date comparison.
TIP
This is a frequently used report by the Commercial Strategy Team. It provides a high-level monthly performance (OTB, Budget, Forecast, Comparison Year, LY Actuals and variances to each). Below are additional business questions that can be answered analyzing this report:
Identify which segments have a stretch reach against Budget/Forecast.
What segments are performing well against the selected comparison period?
Which segments require a performance deep dive?
For the next several months, which month is down vs Comparison Year for Group vs Transient segments?
How much do we need to pickup to reach our Forecast (monthly total)?
The below screenshot is a small part of the large report. This report is best run for multiple months and exported to Excel. Each month will appear on a different tab in Excel and summary tabs are included.

Q: Which days are currently behind pace for a particular month?
Report: Booking Trends > Daily Pace and Pickup Analysis
Recommended Filters
Select your Start Month and As of Date. Revintel allows you to choose your Comparison Year, instead of defaulting to 1 year ago.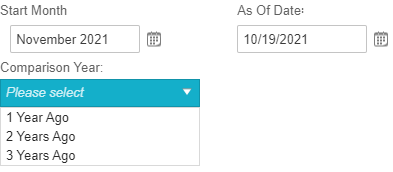 TIP
Review Page 2 of the report to see OTB Totals by day vs the comparison year. The report will provide YOY Change and YOY % Change, by date. Easily identify days that are behind pace for Room nights, ADR and RevPAR. Page 3 of the report provides pickup by day for yesterday, 7-days and MTD Pickup. This report can be run by month.
The below snapshot is only part of the report, which can be exported into Excel.

Q: What was pickup STLY to LY Actual by segment? How does that compare to forecasted pickup?
Report: Hotel > Pace and Forecast Report
Recommended Filters
Fill in your Start Month and As of Date. Revintel allows you to select a Comparison Year which allows you to compare OTB vs STLY or 2-years/3-years ago. This report will generate for your start month through the end of the year; each page will be a different month with a totals page at the end of your report.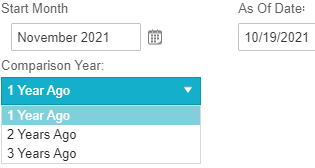 TIP
This report can be analyzed to see gaps in performance not only against a comparison year, but pace to achieve Budget and Forecast. Identify which segments have a stretch and leverage other Revintel reports to identify opportunities for each segment. This is also a great report to review when updating the forecast, as it shows the week over week pickup by segment and provides comparison year pickup.
Other questions to explore when analyzing this report include:
How does last week's pickup by segment compare to what we need to reach the month's forecast?
How does the current forecast compare to the prior month's forecast?
Below is a small snapshot of this powerful report.

Learn more