Revintel can be leveraged by various departments in the hotel. Sales leaders can analyze their hotel performance and identify successes and opportunities for their team members. A great way to capitalize on the power of Revintel is to propose a business question you want to solve.
To assist you with this exercise, we've compiled a list of top questions often asked by sales leaders along with suggested Revintel report(s) to help you answer these questions. Keep in mind that one question could possibly be addressed with a variety of reports, and reports not listed below might be used to answer the same question.
This article focuses on analyzing your pickup performance. Check out these articles that spotlight other areas worthy of your attention:
Q: What was the pickup for the current year since yesterday? By Month?
Report: Portal > Monthly Pickup and Budget Variance
Recommended Filters
Set the Pickup Start date as yesterday's date and the Pickup End date as today's date.
NOTE
The green circle next to your hotel name indicates that the property's data has been updated as of today. If a file has not been received today, the indicator will be red. If that is the case, send an email to
revcloudbisupport@cendyn.com
to request an update.

TIP
The report not only highlights Room Nights, ADR and the Revenue change since yesterday for the entire current year, but also compares OTB versus Budget and Forecast.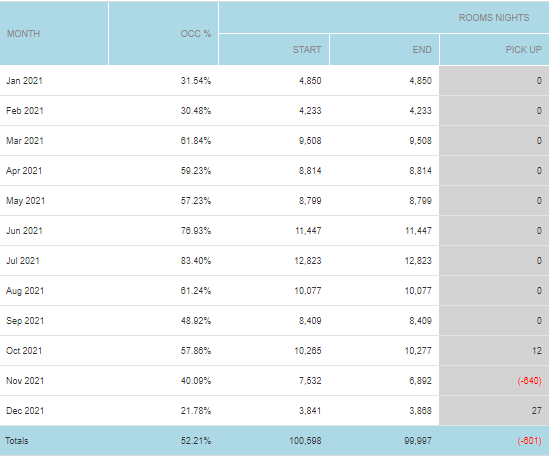 Q: What was yesterday's pickup for the month, by day? What was the 7-Day Pickup?
Report: Daily Pace and Pickup Analysis
Recommended Filters
Select your Start Month and As of Date. Revintel allows you to choose your Comparison Year, instead of defaulting to 1 year ago.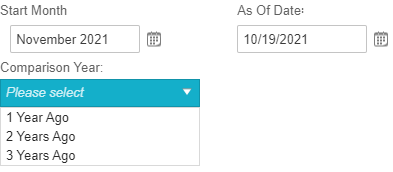 TIP
Review Page 3 of the report which provides pickup by day for yesterday, 7-days and MTD Pickup. This report can be run by month. This is a useful report when reviewing compression or "watch dates" for any given month.

Q: What did we pickup for the year since 7-days ago (past week's pickup) for the full year, by month?
Report: Portal > Monthly Pickup and Budget Variance
Recommended Filters
If you want to review the full year pickup since 1 week ago, adjust the Pickup Start date to 7 days ago and then click Update. The report will update with the Room Nights, ADR and Revenue 7-day pickup.
TIP
If you have weekly meetings, you can review a quick view of pickup since the last meeting, varying the report filters. This is the only dashboard in Revintel that can be exported as an Excel file or PDF.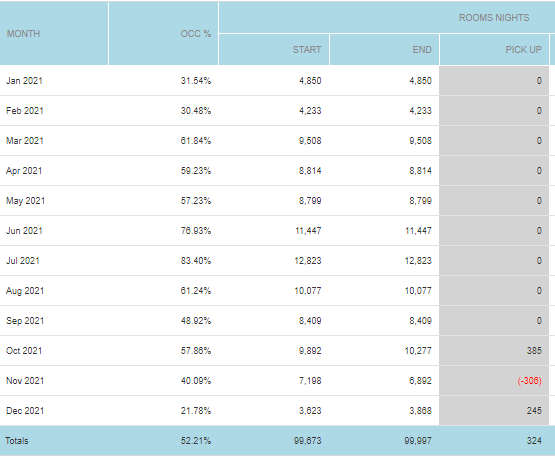 Q: What rate codes or market segments picked up for a particular date since yesterday?
Report: Booking Trends > Pickup by Day Detailed
Recommended Filters
The Start Date and End Date relate to the stay dates of a reservation. Enter your Pickup Date ranges. Selecting October 1 as a Pickup Start Date and Oct 20 as a Pickup End Date, would mean that you are going to see the net changes by date/segment/rate code. It does factor in cancellations and/or reservation changes.
TIP
This is a powerful report to keep an eye on what dates, market segments and/or rate codes are picking up. Users can either look at 1-day pickup or
schedule this report
for their strategy meeting and review a week's worth of pickup. The report is separated into 2 sections - the first page gives you an overview at the market segment level and allows you to drill down to what rate codes are picking up for each segment. This is a great way to see if a recent segment/rate code strategy shift is making an impact.

The second part of the report allows you to analyze the pickup at the day level. Was the pickup anticipated? Which segments and rate code drove the pickup? Did particular dates see a drop? Does the team need to re-evaluate strategy to ensure they achieve market share?
Learn more