Release Notes for v5.31 - January 20, 2022
We're pleased to share the latest enhancements coming to NextGuest B2B Sales and CRM on January 24, 2022. In B2B Sales, In B2B Sales, we're adding two new fields: Active Contacts and Last Activity Date to provide you with more insight into your accounts and agents at a glance.

We're also enhancing the SIHOT data importer to the NextGuest CRM to give you more flexibility on how you can track the channels where your bookings originate.

Read below for more information.
Active Contacts & Last Activity Date Fields
The more you know about your accounts and agents, the better you can engage them. The new Active Contacts field will show a total number of contacts directly associated with the account or agent.

We're also adding a Last Activity Date field to show the date when a Sales Rep or Sales Team Member last updated an activity related to an account or agent.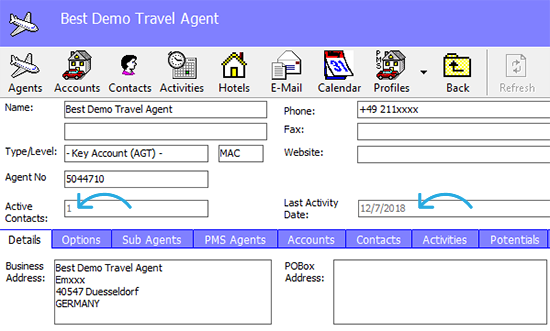 More Flexibility to Importing Data from SIHOT
You will now be able to import data from SIHOT for these fields: reservationSource, reservationMedium and channel, making it easier for you to track the channels where your bookings originate.

To define the parameters for these new fields, please submit a request online for our global support team to assist you.