Release Notes - July 7, 2022
We're pleased to share some exciting new RT4 Booking Engine enhancements that will make the guest experience even better. We've made several look and feel improvements to convey more content while making it look more concise and easier to read. We've also added new features that provide more flexibility for you to determine how guests interact with your property's booking engine. Read on for details.
Curate your User Flow
You now can curate the most impactful user flow for your offerings by deciding how your rooms and offers are displayed. Choose if you want guests to see the Rooms or Offers view first and whether each of those views appears as a grid or a list. The new grid view displays rooms in a row of three to show more options on a single line.
Properties with many room types might prefer the more compact grid view to minimize the number of scrolling guests must do to see all your offerings. Of course, guests making a booking can always toggle between the two view options at their whim.
The new Offers view allows you to give the Rate Plans displayed on your Packages & Specials tab more visibility on your site. If you choose this as your default view, guests will select their dates, select an offer, and then select a room type. Please reach out to your customer success manager to update your default guest views.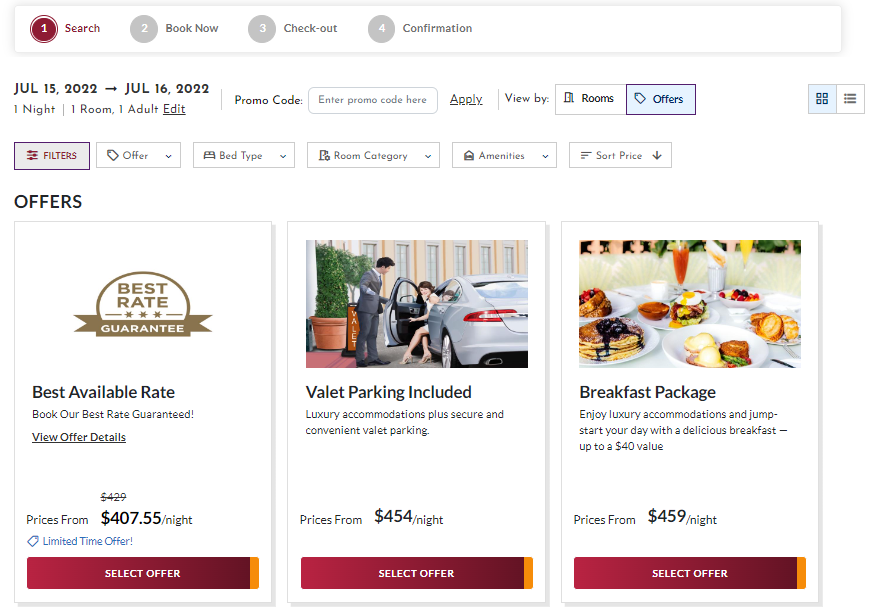 Email Retargeting
Email retargeting is now available on the RT4 version of the booking engine. When a guest opts in by selecting the new "I would like to be informed of the best offers via email" box but then leaves the site without booking, a marketing email will be sent automatically to that potential guest to entice them to return and book.
To set this up, go to Admin > Email Retargeting to enable and configure the email you want to send. In this area, you will also find an Email Retargeting report and an Email Subscription report to view and download the email addresses of the guests who have opted-in to receive your marketing emails.
Absolute vs. Relative Pricing
Relative pricing, which displays all rooms higher than the base room as "USD X more" per night rather than displaying the full amount, is now available. Let's say you currently use absolute pricing and offer a Deluxe Queen room with the rate of "USD 400" and a Luxury Suite with the rate of "USD 550." If you chose to use relative pricing instead, the Deluxe Queen room would still show a rate of "USD 400." However, the Luxury Suite would show a rate of "USD 150 more." Please reach out to your customer success manager if you'd like to change your displayed pricing to relative pricing rather than absolute pricing.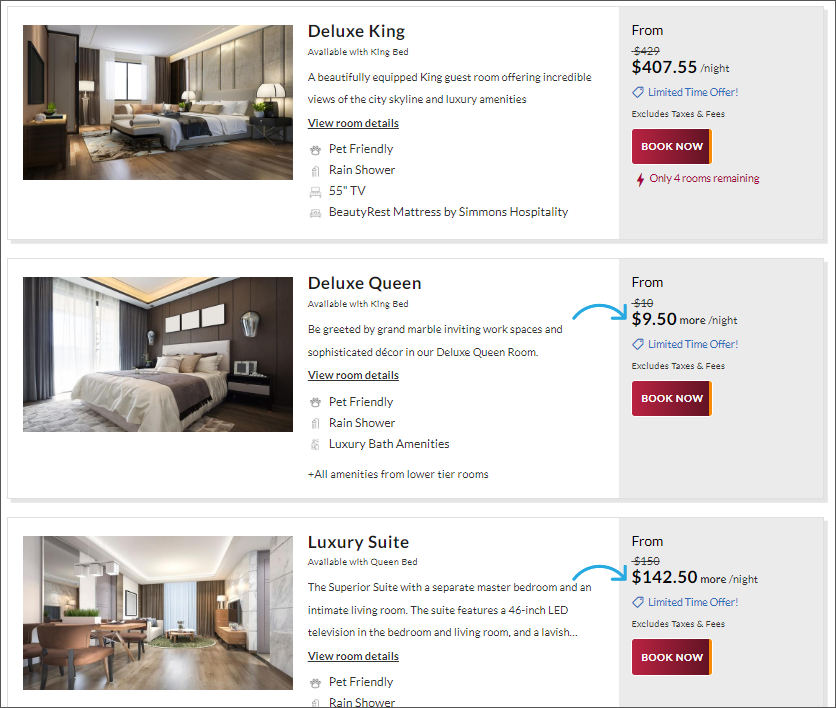 New Scarcity Messaging
"Only [X number] of rooms remaining" messaging is now available on the Rooms page. When enabled for a property, a threshold value is used to determine when to display the message or not. For example, if the message should appear only when the availability falls below 5 rooms, you would request that the threshold be set to "5." This messaging is also enabled for each room type so you can decide if you'd rather not display the message for rooms with limited inventory, such as suites. Please reach out to your customer success manager to enable this feature.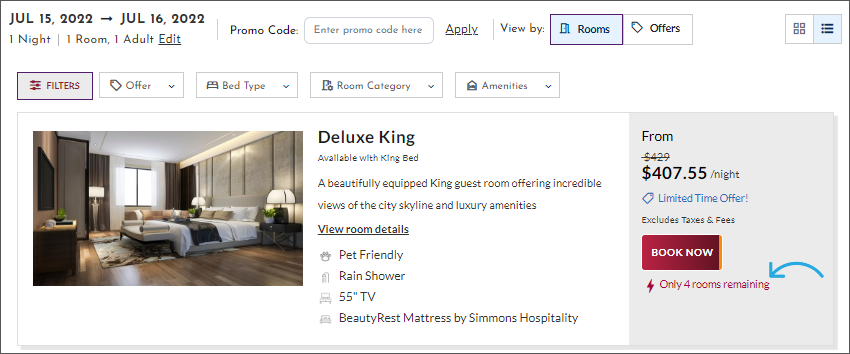 Shift4 updates
For customers who use Shift4 as your payment gateway, we've updated our Shift4 integration to allow refunds during modifications and cancellations.