Release Notes - August 22, 2022
A new enhancement is coming to eInsight CRM that will make your email marketing workflow easier if you're one of our valued customers outside the eastern US. Following our deployment scheduled for August 23, 2022, all users will be able to schedule email campaigns in their own time zone.
By eliminating the need to convert your own time zone to EST (Eastern Standard Time), you'll be able to send campaigns faster and with full confidence that they will arrive on time. Minimal downtime is expected at the time of deployment.
Select your time zone on the Schedule tab
When you schedule your campaign, you'll see a new drop-down menu where you can select which time zone you want to use.
The selected time zone will appear on the Scheduled Active confirmation view.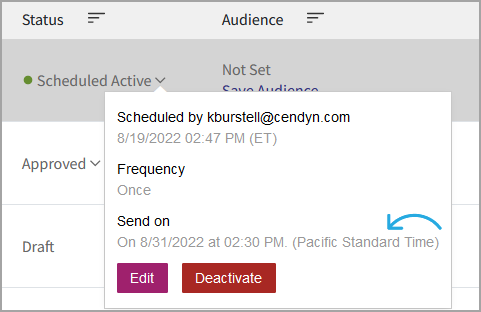 Learn more about scheduling campaigns.