Release Notes - August 29, 2022
We're pleased to share enhancements we're making to our CRS and Booking Engine to improve your user experience. The CRS has a new integration with Agilysys Stay, we've improved how taxes are handled and fixed some issues in the Booking Engine. Read on for details.
Pegasus CRS
Agilysys Stay PMS Two-Way
A two-way PMS integration is now available for Agilysys Stay.
Tax Payable Now vs. Pay Tax Later
We've made a major change to how taxes are configured in the CRS Admin to better identify taxes or fees that are payable at the time of booking versus those due on property. The Property Management view now has a flag called "Pay Tax/Fee at Hotel."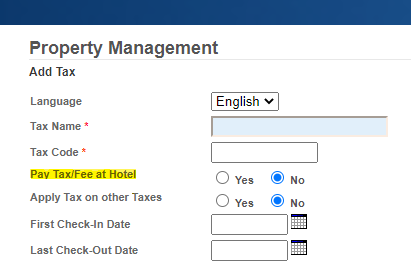 The logic has been updated in both RT3 and RT4 IBE. However, only the UI labels in RT4 IBE have been updated in addition to ADA updates at this time. RT3 IBE UI updates will be made at a subsequent release.
A property enabled for a payment gateway will now send the correct taxes and fees to be charged at the time of booking.
A property not enabled for a payment gateway will now display the correct deposit amount due at the time of booking.
Email notifications have been updated to highlight "Pay at Hotel" taxes/fees.
Alert
We have removed the area in Policies to attach taxes/fees as part of the deposit calculation as this will now be handled by the new flag mentioned above. If you are currently using the Policies section for deposit calculations please update the tax setup so it will be calculated correctly on the booking engine. Please reach out to your Client Success Manager with any questions.