Per Person Pricing allows you to load prices for different adult/child occupancy combinations, that are not affected by the extra occupancy charges setup. Additionally, it also allows you to set up prices for multiple child age ranges.
Enabling at Property Level
Note
The option is not available by default.
To make it visible in your CRS Menu pages, go to:
Property Management > Edit
Activate the option by selecting Yes

Enabling at Rate Level
For a rate plan to have the option available, it must be activate during the Rate Plan creation stage. Go to:
Rate Plans > Add New
Activate the option Use Per Person Pricing

Warning
Rate Plans with Per Person Pricing cannot derive from BAR.

Defining Child Age Groups
In order for a property to be able to have different pricing for children, ages must first be defined in:
Per Person Pricing > Child Age Groups
Click on Add New Child Age Groups

Enter the name, group age and save your changes.
Repeat these steps to add multiple age ranges.

Note
You should include all child age ranges within your age groups, even if some ages do not incur a charge or is the same as adults.
Updating Per Person Pricing
To enter or change individual per person pricing, go to:
Per Person Pricing > Update Per Person Prices

You can apply a supplement or a discount by length of stay, by entering the amount (dollar amount or percentage) in the length of stay Adjustment fields.

Enter adult and child rates by day of week. Select the applicable day(s), as the system will select all by default.
Click on Add New to add more tables as needed. For instance, add a different table if pricing varies for certain days of the week.

Notes
Enter the base room price each adult occupancy. Enter the additional child price for each Child Age Group occupancy.
Updating the Inventory
To add inventory, go to:
Per Person Pricing > Update Inventory.
Select a room/rate combination and click on Continue.

Select a Date Range and click on Daily Rates & Inventory

Enter inventory for the rate plan/room type combination selected. If the selected the rate plan takes inventory from BAR, this step is still needed to sync the rate plan's inventory to BAR's inventory. Make any necessary yield control changes, then select Update at the bottom of the page.
Don't forget to click Confirm on the next page to process your updates.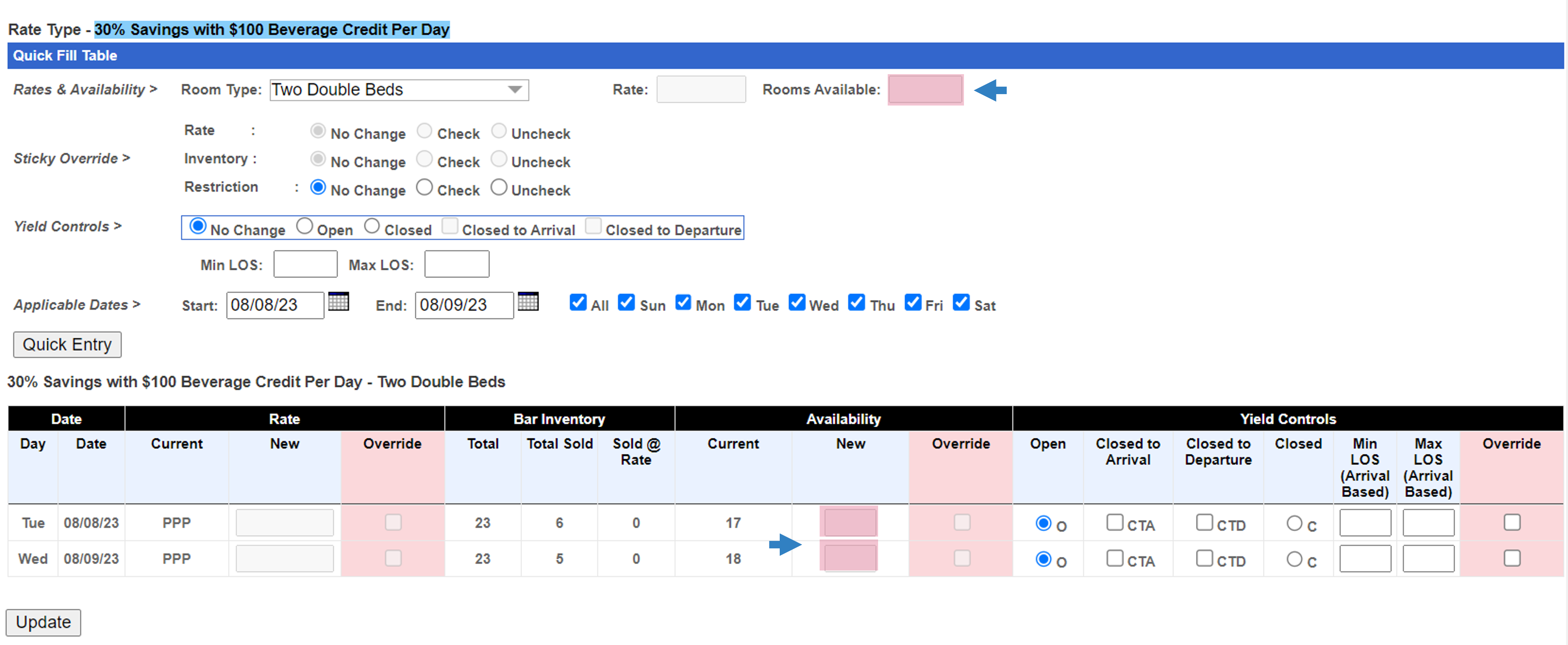 Price Update History
To view details about the price update changes, go to:
Per Person Pricing > Price update History
Enter a date range in the Date of Update fields
Or/and enter the Per Person Price Date range
Click on View Report to see the results